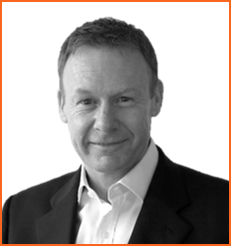 Why we do what we do
Andy realised how much he enjoyed delivering and facilitating when he accidentally found himself chairing an expert panel at Herriot Watt University in 2009. "It's a great feeling when a room full of people connect with an idea and decide to do things differently. Our job now is to connect that to "performance" and help people towards their desired outcomes."  Coaching, using the right set of tools, enables people to manage and drive their own performance especially when the pressure is on.
Experience  
Since setting up Andy Coughlin Consulting in 2010, Andy has delivered programmes to companies and organisations in 19 countries, spanning Europe, North and South America, the Middle East, Africa, China and Russia. Most of his delivery is based on the Gazing Performance System, though he also facilitates events and chairs the board and strategy meetings for several companies. Clients describe his delivery as being relaxed yet structured, focused and (usually) with a generous dose of humour thrown in. 
Background
Andy draws on over 25 years' experience of sales, management and board level responsibility in the business to business (b2b) environment. 
A graduate of the internationally renowned IBM Sales School, and with business development experience at IBM and Compaq, he brings a wealth of practical experience of the corporate sector.
Andy also has 12 years' experience running small businesses. As a director of BHP (now Atom Content Marketing) and TSBC (UK) Ltd he has sold and negotiated contracts with over 40 major blue chips, sports clubs and Government Departments.
Getting personal
Andy loves spending time outdoors, especially with his wife and family. He is at his happiest in the mountains, hiking and canoeing, but also enjoys tennis, cricket and hockey. He has been a member of Richmond Hockey Club for over 30 years.
A one-time DJ on British Forces Radio, he plays guitar and piano, especially enjoying the blues. He occasionally performs with other family members….to anyone who will listen.
Andy describes his most memorable professional achievement as being the time he negotiated the use of a tractor off Belizian Prime Minister Manuel Esquivel to transport building materials into the jungle, during his time as a Leader on Raleigh International.