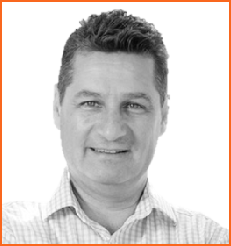 Why we do what we do
Working with people and getting the best out of them is a key thematic – be it through coaching and mentoring or direct leadership, in the past on the rugby field, more so now in the business environment!
Experience
John has worked with senior leadership teams and management in senior companies for over 20 years. Ever commercial, with a background in sales, he also draws on his experience in senior leadership positions, and as the founder / owner of his own consulting business, which he built and sold to a large international consultancy in 20XX. 
John and Andy met in the early 1990's at IBM, and work together on clients in the professional services and financial sectors. 
John is an accredited ICF coach.
Background
John has a broad business background in sales, talent, product development, marketing, management, leadership P&L ownership.
John also has close on 20 years' experience running SME businesses. He has successfully developed business with over 40 major blue chips and other organisations including:
Global Banks such as Goldman Sachs, JP Morgan, Barclays Capital

International technology companies  including IBM and Oracle

Major utilities including British Gas, Npower and BT

FMCG/CPG companies such as Nestle, Coca-Cola and J&J
A graduate of the internationally renowned IBM sales school, with business development experience at IBM and numerous other software companies as well as consulting experience with Accenture, BCG and McKinsey, John brings a wealth of practical experience of the corporate sector.
Getting Personal
John has a passion for rugby, skiing and the odd beer. With 3 sons in their 20s time is now spent with his wife and dogs.